Fieldwood Heritage Society
Canning, Kings County, Nova Scotia
---
Welcome to the
Fieldwood Heritage Society
The Fieldwood Heritage Society was organized in the winter of 1988 and held its first meeting on February 25 during Heritage Week. It was incorporated as a society on November 20, 1989.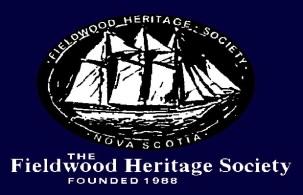 The logo, designed by Matth Cupido, depicts a three-masted schooner (tern) named Fieldwood, built in the Bigelow yard in Canning in 1920 and lost off Cape Sable Island in 1938. She was the last large ship built in Canning. The builders were Russell Hatfield and Arthur Lockwood, hence the ship's name.
Captain Oxner of the Fieldwood lost at sea 4 January 1935 Lost At Sea

Fieldwood crew member lost at sea 4 January 1935 Lost At Sea

Tern Schooner Fieldwood RootsWeb: LUNEN-LINKS-L Archives

Again, U. S. Lines TIME magazine, 2 January 1939
...On Christmas Eve a happy knot of womenfolk on a quay in Halifax had the U.S. Liner American Farmer to thank that their men were home to tell the tale of what happened when heavy weather struck the venturesome Nova Scotian three-master Fieldwood, bound from Hawkesbury, N.S. for Barbados. Two days out the pumps broke down. Water poured in...
---
Fieldwood Heritage Society
PO Box 142
Canning, Nova Scotia B0P 1H0
Canada
---
---
This FHS website is generously hosted by Ednet.
Nova Scotia Department of Education
---
First uploaded to the Internet: 2004 May 07
Latest update: 2005 January 05
---