Fieldwood Heritage Society
Canning, Kings County, Nova Scotia
---
Main Street Walking Tour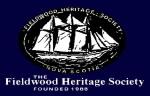 A Historical Walk Along Main Street, Canning
Next time you walk down Main Street take this walking tour with you and learn about our many interesting historical properties.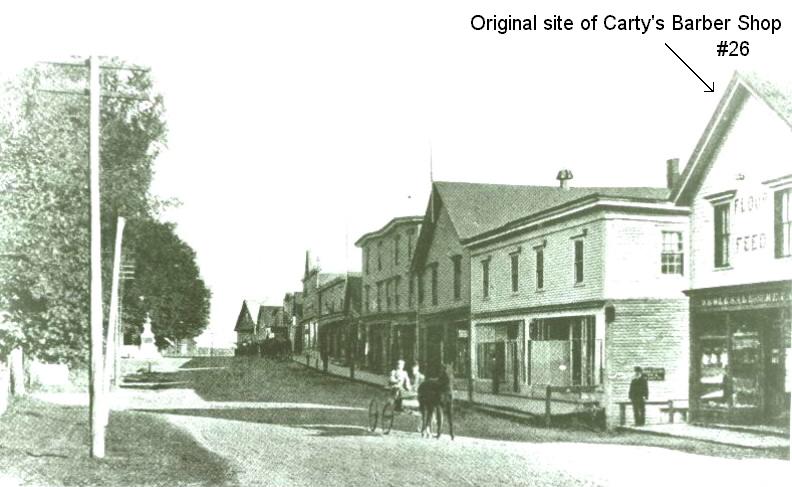 Canning's Main Street in the early 1900s
Among their meadow islands
Through placid days they glide,
And where the peaceful orchards
Are diked against the tide.
They rumor through the twilight
At the edge of the unknown,
There's a message waiting for you
And a kingdom all your own.
Bliss Carman 1861-1929
Rivers of Canada
The information below is from the
Fieldwood Heritage Society's
Pre-1914 Built Heritage Survey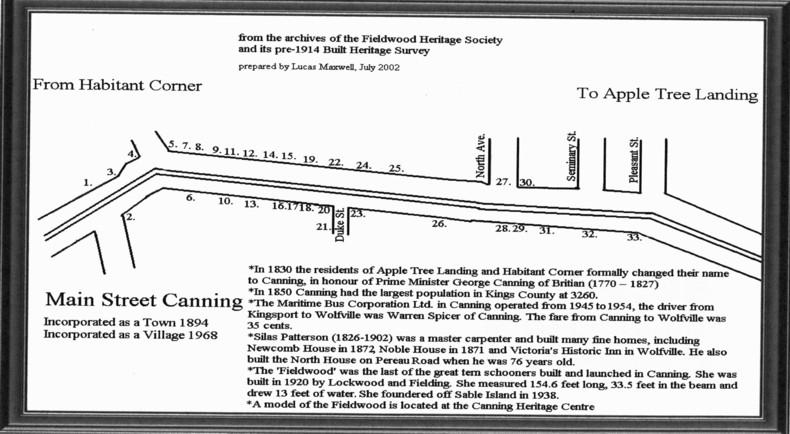 The numbers 1-33 on this map correspond to the item numbers 1-33 below.
1.   Miller/Sinnott House, 9695 Main Street
Built c.1895, owned by Dr John W. Miller. It remained in the Miller family until 1986. Ethel Miller Sinnott, daughter of Dr. Miller, was a noted musician and music teacher.
2.   9692 Main Street
Built c.1901 in the Queen Anne Revival style by S.T. Chipman, who built two more in the same style on North Avenue. Queen Anne Revival; asymmetrical, ornate trim, multi-gabled. The original owner was Arthur M. Lockwood.
3.   9711 Main Street
Original owner: Dan Pineo. Built c.1862 in the Gothic Revival style, it incorporated an earlier building, the Canning Public Hall, built in 1854, that later became the Canning Customs House. Owned by A.D. Payzant, a prominent businessman and community leader, from 1896 to 1945.
4.   United Church, 9717 Main Street
This was a Methodist Church from 1910 to 1925, when it became a part of the United Church of Canada. An earlier Methodist church was built here c.1854 and burned in 1908. Part of the communion railing from this church is now located at the Canning Heritage Centre.
5.   9725 Main Street
Original owners; Albert & Herbert O. Harris. Built c.1902 in the Second Empire style. In 1907 Harris and Nathan Woodworth Eaton traded houses (see #19). Eaton lived here from 1907 to 1930. Note the mansard roof, dentals over windows and under eaves and curved caps over second story windows.
6.   9732 Main Street
Built c.1853 in the Gothic Revival style on land purchased from Charles R. Northrup, this was the first house built by Silas Patterson, who built many fine homes in the area. It was purchased by Frederick Borden in 1902, and remained in the Borden family until 1969. It was occupied by James Lynk, the Bordens' gardener for 39 years. Note the diamond-shaped glass in gable window and the 6 over 6 style windows.
7.   9739 Main Street
Built c.1860 for James E. and Bridget Lyons. A nice example of Greek Revival: asymmetrical, entrance off centre and on the gable end.
8.   St Michael and All Angels Church,
9741 Main Street
This church was built on the south side of Main Street in the mid 1800s, possibly by Silas Patterson or David Lowden. The building was moved across the street to its present location in 1903. The bell is from a train engine and was donated by the Dominion Atlantic Railway.
9.   9751 Main Street
Built c.1856 in the Gothic Revival style by John E. Bowlby, note the Ionic pillars, sidelights and transom that adorn the entrance to this building. It also has 6 over 6 windows and an unusual gable window. Gothic Revival: symmetrical, three bay facade with door in centre, and with one or more gables.
10.   Borden Place/The Old Place, 9752 Main Street
Originally owned by Edward Harris, this house was purchased by Frederick Borden in 1881. Borden was a medical doctor in Canning and later a member of parliament from 1873 to 1882 and 1886 to 1911 under Sir Wilfred Laurier and Minister of Militia from 1896 to 1911. He was knighted in 1902. At this time Borden had the house renovated and enlarged by the architect William Critchlow Harris. The building is a National and Provincial Registered Property.
11.   Farmhouse Inn, 9757 Main Street
Built by Charles R. Northrup c.1861. Part of the foundation of this house appears to be older than the building itself, suggesting there was another house there prior to 1861. Northrup erected the wrought iron fence.
12.   9769 Main Street
Possibly built as early as 1830 in the Georgian style, this house was originally owned by Benjamin Donaldson. Note the steeply pitched gable roof, return eaves, corner boards, 6 over 6 windows, triangular pediment over the entrance and symmetrical facade.
13.   9770 Main Street
Built c.1863 and originally owned by James and Mary Lois Witter. It is a good example of the Georgian style (see #12). Master Mariner Captain Alfred Potter and his family lived here from 1890 to 1917. Captain Potter commanded many vessels, including the Kings County and the Habitant. His father, Captain Henry Potter, was involved in a profitable trade along the Atlantic coast during the American Civil War (1861-1865).
14.   9777 Main Street
Built by R.D.G. Harris in 1872. Harris was a community leader in Canning who owned and operated a dry goods store which was located at 9840 and later 9846 Main Street. The trim on the veranda is much admired.
15.   9781 Main Street
Built c.1858. Original owner: Henry H. Newcombe. It was owned by Hennigar Blenkhorn, blacksmith, from 1880 to 1885.
16.   9782 Main Street
The present building was constructed c.1888 and recently enlarged and renovated. Originally owned by Wallace Parker. John Northrup operated a shipyard c.1847 here.(see #17) The shipyard lasted ten years, until the second aboiteau was constructed at the site of the Legion.
17.   9786 Main Street
The property was part of the Northrup shipyard that operated around 1847. Built c.1888 and originally owned by Charles R. Dickie, postmaster and merchant. The property remained in the Dickie family until 1962.
18.   9790 Main Street
Built in 1840 and originally owned by Gurdon Eaton. Owned by David M. Dickie from 1855 to 1899. Dickie was a successful merchant and MLC (Member of the Legislative Council). Remained in Dickie family until 1949.
19.   9795 Main Street
Built c. 1865. Original owner was John Northrup, who had operated the shipyard across the street in the area that was part of the 'Wash Bowl'.
20.   9800 Main Street
Built c.1857 and originally owned by Levi C. Woodworth. It was once a well-appointed hotel known as the 'Canning House', owned and operated by Elizabeth Eaton from 1895 to 1913.
21.   Royal Canadian Legion, 9802 Main Street
This was the 5th Cornwallis Baptist Church from1870 to 1909 and located on Main St. The steeple was removed and the building relocated to the riverside. It served as an Armory from 1909 to 1950, when it became Habitant Branch #73 for the Royal Canadian Legion. The second aboiteau was located behind the Legion . The cenotaph is dedicated to the men from the Canning area who fought and died in World Wars I and II. The original cenotaph was unveiled in 1922 by Lieutenant Governor Grant.
22.   9803 Main Street
Built prior to 1870. Original Owner: Levi Wells Eaton. Owned by Lalia B. Chase, MD, from 1937-1963. Dr. Chase was a generous benefactor of Hardwood Lake Girl Guide Camp and Acadia University.
23.   Canning Library and Heritage Centre,
9806 Main Street
Built by Robert M. Rand around 1887. Other owners were The Supply Company (1912-1917), MT&T (1917-1958), and the Irving Oil Company (1965-1993). The telephone exchange was located here at one time. Behind the building is the site of the former Canning Government Wharf. In its heyday, as many as eleven sailing ships lined up at the wharf, waiting for their turn to dock.
24.   The Dickie-Baxter House, 9809 Main Street
Built c.1852 and owned by Eliakim E. Dickie. From 1861 to 1863 this building was owned by the Hon. Charles Dickie, MLC. Also owned by W. H. Baxter, a master shipbuilder in Canning, who built the Preference, the A.B. Barteau and the W.H. Baxter at the Bigelow shipyard.
25.   9815 Main Street
Built c.1854, the original owner of the property was Charles Lockwood, a blacksmith. The Lockwood family lived here from 1854 to 1922.
26.   Carty's Barber Shop, 9828 Main Street
This building predates the devastating 1912 fire and was moved to its present location after the fire. It was used for many years as the Canning post office and was owned by the Dickie Family.
27.   Lieutenant Borden Monument
The monument was unveiled on September 23, 1903 in memory of Lieutenant Harold Borden, who was killed in action in 1900 during the Boer War. He was the only son of Sir Frederick Borden. In 2000, on the anniversary of his death, a re-enactment of the unveiling was held by the Fieldwood Heritage Society, the Canning Legion and the Royal Canadian Dragoons, Borden's regiment. The sculptor was Hamilton McCarthy, whose work is found in Halifax and Ottawa, and other Canadian cities.
28.   E.L. Newcomb Chinaware, 9838 Main Street
Built c.1865, this business is an authentic reflection of the past and is the oldest continuous business on Main Street.
29.   9840 Main Street
Built c. 1870. Original owner, R.D.G. Harris, who later moved his business to 9846 Main St.
30.   9845 Main Street and the house on the corner
House built c.1853. Original owner: John H. Clarke, merchant and shipbuilder. His daughter, Julia, was the mother of Harold Borden (see #27). House later owned by Harry C. (pharmacist). & Annie C. Martin, who built the commercial property on Main Street. Dr. A.M. Covert, MLA, purchased the property in 1908. It stayed in the family until 1986.
31.   Harris/Payzant/Bickerton, 9846 Main Street
Constructed in 1861 and owned by George Eaton & Co. It was a dry goods store from 1872 to 1986 owned first by R.D.G. Harris, then A.D. Payzant and finally by R.A. Bickerton. The building survived the 1866, 1868 and 1912 fires in Canning that destroyed over 100 buildings. Note the ground-floor windows.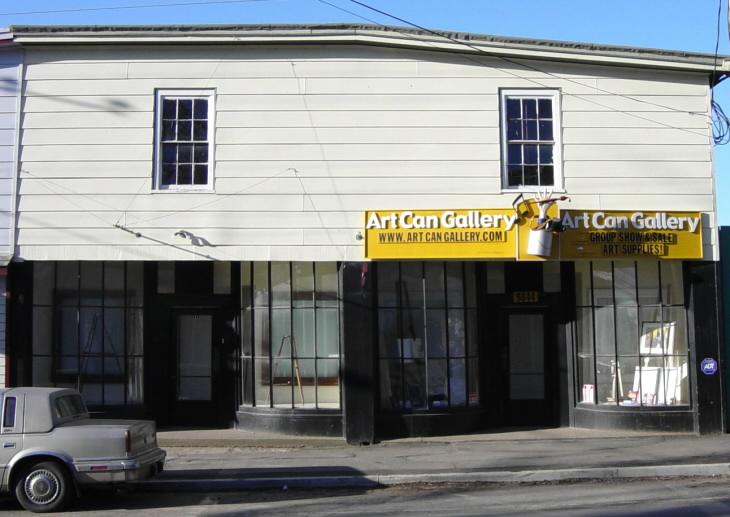 Payzant-Bickerton-Livingston building
9846 Main Street, Canning
Photographed 11 April 2004
32. Bruce Spicer Park
Nestled on the bank of the Habitant River, Bruce Spicer Park is the site of the historic Bigelow shipyard. Just east of the park is the site of the Blenkhorn Axe Factory, which operated from 1859 to 1962. The band stand was completed in 2000.
33. Bigelow Shipyard Memorial
The Bigelow Shipyard Memorial commemorates the Shipyard of Ebenezer Bigelow Jr. and his descendants, 1838 to 1919.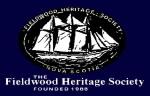 The Wayback Machine has archived copies of this webpage:
Main Street Walking Tour
Canning, Kings County, Nova Scotia
Archived: 2004 September 05
http://web.archive.org/web/20040905090122/http://fieldwoodhs.ednet.ns.ca/cfhshistmainst.html
Archived: 2005 September 03
http://web.archive.org/web/20050903044911/http://fieldwoodhs.ednet.ns.ca/cfhshistmainst.html
Archived: 2006 May 02
http://web.archive.org/web/20060502141029/http://fieldwoodhs.ednet.ns.ca/cfhshistmainst.html
---
This FHS website is generously hosted by Ednet.
Nova Scotia Department of Education
---
First uploaded to the WWW:   2004 May 07
Latest update:   2008 January 21
---