Fieldwood Heritage Society
Canning, Kings County, Nova Scotia
---
Montana Slim
Montgomery Ward M-7266
78rpm record
Monophonic
Made in the United States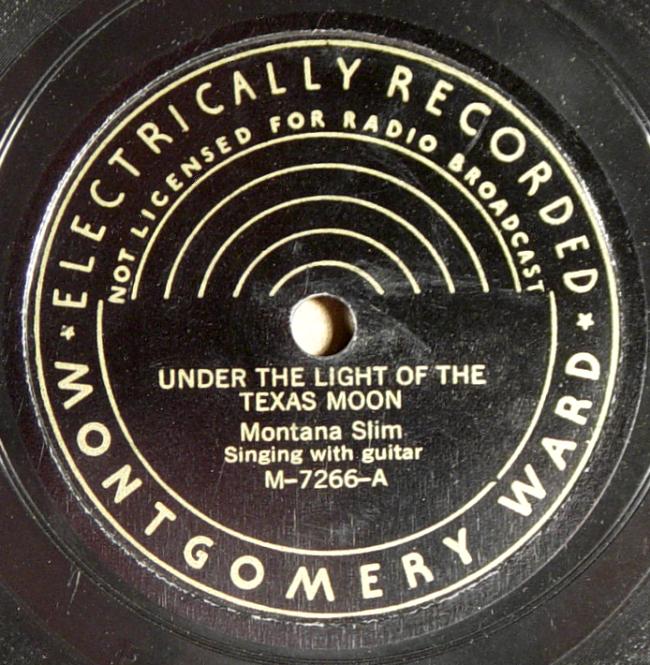 (above) Side A: Under The Light Of The Texas Moon
Montana Slim 78rpm record Montgomery Ward M-7266
(below) Side B: I'm Still Waiting For You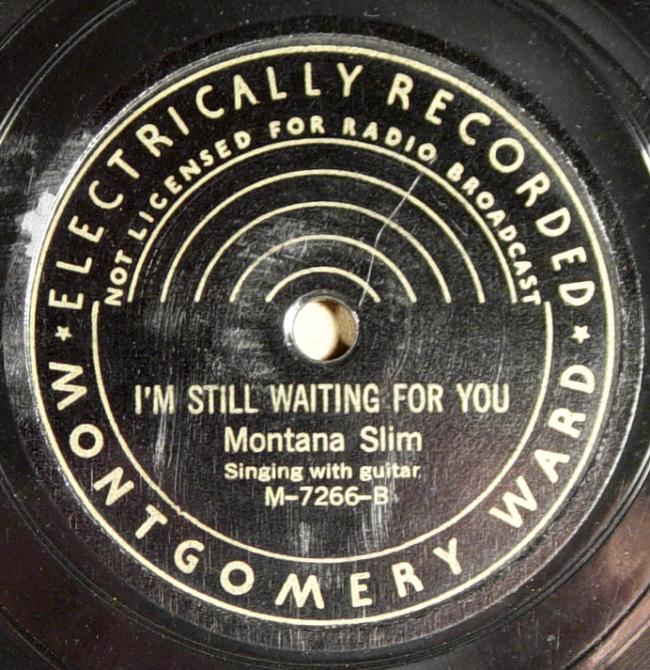 Library stock number A105

---
Montgomery Ward
Montgomery Ward was a large retail company in the United States that sold thousands of items through its famous mail-order catalog. In the 1930s MW offered their own 78rpm records as part of their general catalog. MW did not manufacture the records it sold – they were recorded and pressed by Victor from Victor masters, assuring a high-quality product. The catalog numbers for MW records consist of the letter M followed by a four-digit number. These Montgomery Ward records are now quite rare.

In the 1960s, Wards began a long slow decline. The mail-order catalog was ended in 1985. In July 1997, Montgomery-Wards Holding Corporation and its subsidiaries declared bankruptcy. Wards emerged from bankruptcy court protection in August 1999 as a wholly owned subsidiary of General Electric Co. During that time, Wards closed about 100 locations and spent millions of dollars to renovate its remaining stores. In December 2000, a second bankruptcy triggered the closure of all 250 stores across the United States.
---
---


W3C HTML Validation Service
http://validator.w3.org/


W3C CSS Validation Service
http://jigsaw.w3.org/css-validator/
This FHS website is generously hosted by Ednet.
Nova Scotia Department of Education
---
First uploaded to the WWW:   2005 January 11
---