Fieldwood Heritage Society
Canning, Kings County, Nova Scotia
---
Wilf Carter
RCA Victor Bluebird B-4988
78rpm record
Monophonic
RCA Victor Company Limited
Montreal, Canada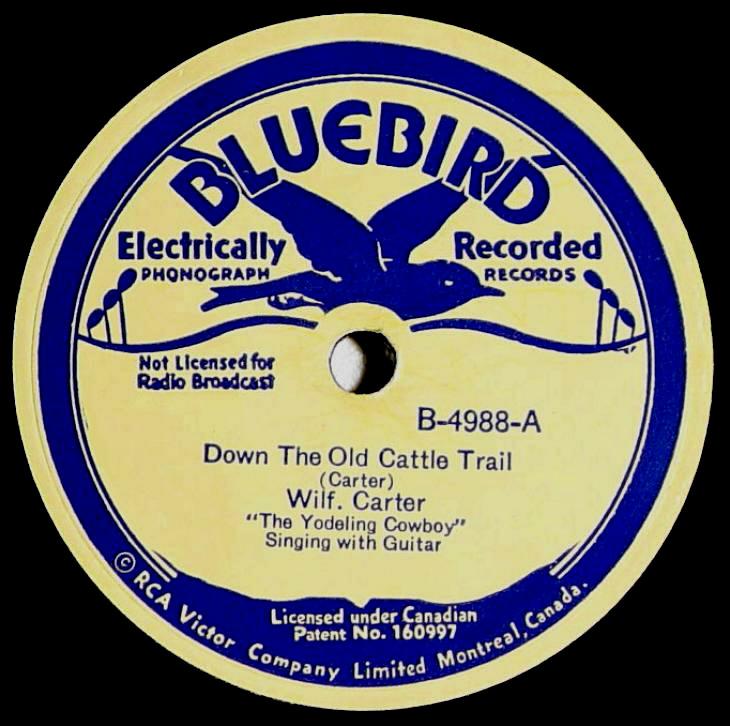 A: Down the Old Cattle Trail (above)
Wilf Carter: 78rpm record RCA Bluebird B-4988
B: The Hobo's Song to the Mounties (below)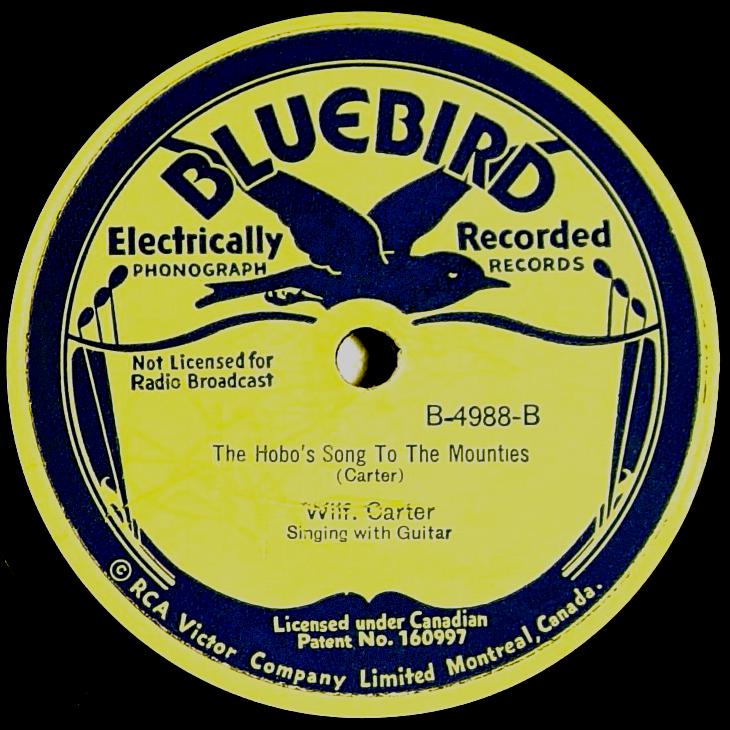 Library stock number A038

Different Labels
Most records have two labels, one on each side, and these two are
printed from the same design. Only the song titles are different on
the two labels on the same record.

Occasionally, one finds a record with different labels on the two sides. 

Look at the two labels above. The B label differs from the A label.

The printer's mat for the A label appears to have been made from the
B label mat, by cutting away some of the B label's design. The cutting
appears to have been done in haste, with edge fragments of the
original pattern remaining visible at two places.

It is believed that this record, B-4988, was pressed at the time of the 
transition from one label design to another, with the B label printed
from the older design and the A label from the newer design. The
slightly earlier records B-4968, B-4969, B-4972, B-4974, B-4976,
B-4979 and B-4982 are each known to have two labels that match
the older B label design above.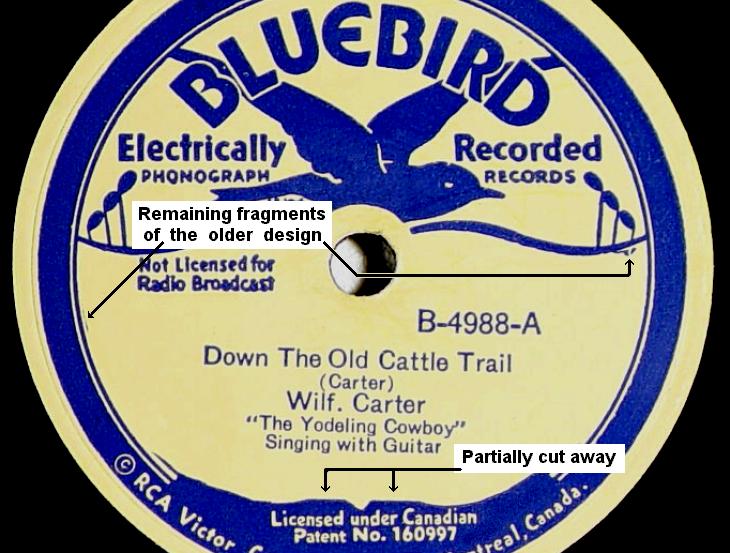 Converting the older design (B label above)
to the newer design (A label above).
---

Label Types of Bluebird Records Antique Phonograph News Jan/Feb 1993
with particular reference to differences in Canadian and American issues
by Colin J. Bray and Jack Litchfield
includes photographs of ten variations of the Bluebird 78rpm record label
    http://78rpmrecord.com/blblabl.htm

RCA Victor Records, History of Recorded Sound in Canada by Steven C. Barr
Canadian Antique Phonograph Society
    http://capsnews.org/barrrca.htm


---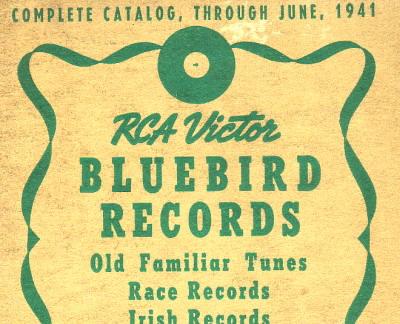 RCA Victor Bluebird Catalog 1941, top half front cover
Complete front cover and Montana Slim listing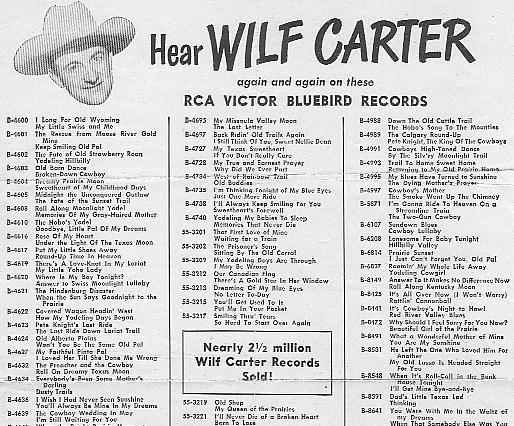 RCA Victor Bluebird - list of Wilf Carter records, c. 1949
Complete list

---
---


W3C HTML Validation Service
http://validator.w3.org/


W3C CSS Validation Service
http://jigsaw.w3.org/css-validator/
This FHS website is generously hosted by Ednet.
Nova Scotia Department of Education
---
First uploaded to the WWW:   2004 October 27
---